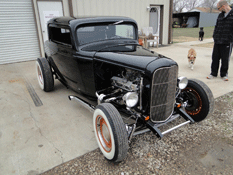 Dallas Pre-Purchase Inspections


by Stephanie Schoendienst


A buyer and his grandfather were searching for a 1930 Ford 3-Window Coupe Street Rod to help complete his bucket list. They found one for sale in Ft. Worth, TX. Being located in Houston made it difficult for the duo to know what the car really looked like and how it ran. They needed a pre-purchase appraisal. A referral got them in touch with our AAN Dallas Region Certified Appraiser and Franchise Owner, Ron Gibson.


Once on location in the dealer's showroom, Ron got a good look at the Hugger Orange Coupe. The appraisal included over 50 digital photos of the vehicle plus a test drive. Ron noticed some concerns about the vehicle and the asking price. He sent pictures by text message to the buyer on the spot. He discussed his findings with the buyer and they were able to determine that this vehicle did not match the buyer's needs. The buyer was looking for a Ford that was ready to drive, where all you had to do was polish it and drive it.


In the meantime, Ron knew of a 1932 Ford Black 3-Window Coupe out of Midlothian, TX, that fit the desires of his buyer. Ron was able to complete an additional appraisal with pictures and the fair market value. He sent close to 100 pictures. Both the buyer and his grandfather showed up that weekend with an enclosed trailer to pick up the 1932 Ford.


Both appraisals were completed and submitted promptly and the buyer was impressed. "There were no surprises," said the buyer. "The good and the bad about both vehicles were clear. I enjoyed working with Ron. It was worth it for him to look at both cars."