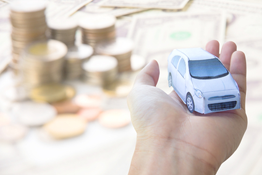 More than 1.1 million vehicles changed hands in September 2013, a drop of almost 25% when compared to the previous month. Competition for sales is growing as manufacturers put new models on the road and offer bigger discounts to clear out inventory. Big dealers are offering more pre-owned certified vehicles, putting the squeeze on the private seller. To sell your car privately today, you need a strategy and a solid plan.
Price Your Car Correctly
Price your car accurately. Anyone who has access to a computer can quickly access real-time car values with just a few clicks. Don't try to over-charge or hope someone will buy blind and pay more. It's just too easy to find the truth. A slew of websites offer car pricing and valuation tools, like Kelley Blue Book (KBB.com) or NADA.com. Just log on and select all of your options. You'll get a quote right away. You can bet buyers will do this before buying.
Next, check online classified ads for your area to compare prices for similar makes and models with similar mileage. If you can't find the exact make, find a car that's in the same class. For instance, if you have a Honda Accord, compare it to a Toyota Camry of the same year and make sure each has the same engine and major features. Upgraded 6-cylinder engines add more to the car's price.
Check Out Your Car History
Most car shoppers buy used cars because they like the lower price, and assume they are getting more car for their money. However, they worry about a used car's condition. To alleviate these fears and increase your chances of closing an interested buyer, get a used car report from a reputable vendor like CARFAX. This details everything from oil changes to accidents, and you only have to buy one. You can photocopy the report, and hand it out to buyers. Or, order unlimited reports and download as many as you like for a month.
Upgrade Your Car's Warranty
Since some buyers are always skeptical, consider adding an extended warranty to your vehicle. You can buy extended warranties that will transfer to another owner (called a transferable warranty), and add another layer of protection.
You can select different types of warranties that cover various issues like the drive train, engine, or complete coverage. It's an excellent selling point and is reassuring to buyers. This year, car repair costs rose 10 percent, notes CarMD, and many car buyers are well aware of the full cost of ownership with every vehicle.
You can get a quote on extended warranties at Carchex.com. A full inspection of the your vehicle reassures buyers it is in good condition. With a warranty and inspection you can command a better price for the vehicle, since the warranty covers certain repairs.
Promote Gas Mileage, Money Saving Benefits
Promote your vehicle's benefits. If it gets good gas mileage, add it to the listing. If you are selling a 2009 Ford Focus, mention it gets 27 combined mpg, as opposed to the 2009 Honda Accord Coupe, which only nets 24 mpgs. You can also quote individual estimates from feuleconomy.gov, which say the Focus actually gets up to 33 mpg highway.