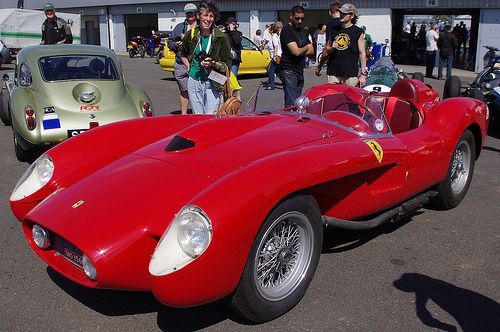 Car auctions have become dramatically more popular in the last few years, and classic roadsters and beautiful race cars have claimed ever escalating price tags on the auction block. The Wall Street Journal reports that Mecum Auctions sells almost twice the number of cars now than it did in 2010. In one 10-day sale more than 2,600 cars went up for auction. As bids climb and auctions swell, several automobiles stand out, not only as beautiful classics, but for jaw-dropping prices. Here are the top 5 most expensive cars ever bought and sold:
1957 Ferrari 250 Testa Rossa
In August of 2011, auction company Gooding & Co offered up this prototype 1957 Ferrari 250 for public bidding in Pebble Beach, California. According to Motor Authority, this particular Testa Rossa was a Ferrari team car that competed in the 24 hour Le Mans race, further spiking it's value to collectors. Decked out in it's original North American Racing Team colors and lovingly restored, this 1957 Ferrari 250 Testa Rossa prototype broke records for the most expensive car sold in public auction at the time with a final sale price of $16,390,000.
1967 Ferrari 275 GTB/4 NART Spider
On day two of the RM Auctions Montery event, one of the most exclusive Ferrari's ever manufactured fetched a price that defied expectations. One of only ten ever manufactured, the Spider was only owned by the classic car elite, according to Autoblog. Actor and sports car enthusiast Steve McQueen owned a Spider, and one is featured in his film "The Thomas Crown Affair." McQueen thinned the Spider pool when he crashed his – a reminder that insurance for a classic car like the Spider is available through providers like TheHartford.com, and is a necessity for any classic car collector. Early expectations for the winning bid for this Spider had estimated between $14 million and $17 million, but bidding escalated quickly with a final sale price of $27,500,000.
1954 Mercedes-Benz W196R Formula 1 Racer
In July, 2013, the previous record for public car auctions (held by the 1957 Ferrari 250 Testa Rossa mentioned above) was shattered at Bonhams auction in Chichester, England. According to Hartford Business, this particular W196R won nine Grand Prix races between 1954 and 1955, and is the only W196 not kept in a museum or owned by the Mercedes-Benz company. Previously owned by the emir of Qatar, this race car sold for an unprecedented $29,496,308.
1936 Bugatti Type 57S Atlantic
While all of the vehicles mentioned above were sold at public auctions, one notable private auction involved the elusive Bugatti Type 57S Atlantic. The lowslung supercar is one of just four made, and is based on the "Aerolithe" concept car for 1935. Supercars reports that the Atlantic is the first car with fins, due to it's unconventional Electron and Duralumin construction which required riveting to be performed on the outside of the car. Only two of the Atlantics have survived the last 75 years, and this particular Atlantic was the first to roll off the line in 1936. Restored to it's original specs in 1971 by famed Bugatti collector Peter D. Williamson, it was auctioned after his passing. It was purchased by an anonymous buyer and now parks in the Mullin Automotive Museum. It's final price came to approximately $36,000,000.
1962 Ferrari 250 GTO
The most expensive car to ever be purchased, this 1962 Ferrari 250 GTO was built for Sir Stirling Moss, and is one of less than 40 ever manufactured. Apple-green with iconic curves, this particular 250 GTO was reported by Fox News as chassis #3505, and was intended for Stirling Moss to race in before he suffered injuries in a crash that prevented him from driving. In June of 2012 this unique vehicle was privately sold for a shocking $35,000,000.
Creative Commons image by Dave Hamster