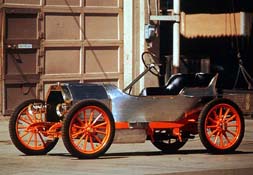 The earliest Bugatti built were this tiny Type 10 prototype, built by Ettore Bugatti for himself in his spare time between 1907 and 1909, while in the employ of the Deutz company in Cologne, Germany. He was disgusted by the heavy vehicles Deutz forced him to design, so he conceived this aluminum-bodied 810-pound 10-horsepower car capable of 55 mph. He dubbed it "le Petit Pur-Sang," or little thoroughbred. When he left the company, he drove it to Molsheim, France, where this car helped him secure financial backing to start his own company.
The Type 10 used a monobloc straight-four engine of Ettore's own design. It was an overhead cam unit with 2 valves per cylinder, highly advanced for the time. A very-undersquare design, it had a 60 mm bore and 100 mm stroke for a total of 1.1 Liters.
Around 1910, Bugatti formed his own company, Ettore Bugatti Automobiles. With the help of Ernest Frederich, a factory was setup in Molsheim, Alsace which was part of Germany. After the First World War, Alsace joined France and most Bugattis thereafter were finished in French Racing Blue.
The first product to come from Molsheim was the Type 13 which was based on the lightweight engineering principles of the Petit Pur-Sang.
Surprisingly, the Pur-Sang prototype seen above is the original car. After being preserved by Bugatti through the wars, the car was discovered in Bordeaux. The current owner is General William Lyon of Newport Beach, California.