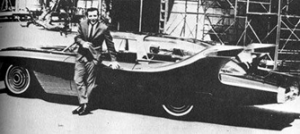 Known as the Bobby Darin Dream Car. It was the only automobile design by clothing designer Andy DiDia, which took seven years to build (1953-1960).
The 1960 DiDia 150 was a luxury, custom-designed  car also known as the "Dream Car" and forever associated with its second owner, singer Bobby Darin. At the time the car was listed as most expensive 'custom-made' car in the world by the Guinness Book of Records.
Its metallic red paint was made with 30 coats of ground diamonds for sparkle.
The original Cadillac V8 was replaced by a Ford 427/365 hp V8 engine is located at the front and was rear-wheel drive, the body and chassis are hand-formed in aluminum with a aluminum alloy welded  tube frame.
It has automatic air conditioning system a rust colored interior with the first backseat radio speakers and automatic windshield wipers.
The car is currently located at the St Louis Museum of Transportation 3015 Barrett Station Rd, St Louis, MO.
What, a blind spot,  they made the rear roof all glass!