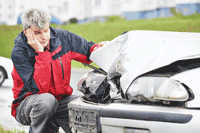 Suddenly, time moves from a flowing to viscous tempo leaving you a wide-eyed and helpless onlooker to the action that's taking place. Then, BOOM! You're brought back to reality with the crunch of metal, breaking glass and the smell of leaking chemical fluids and smoke.
No, I didn't just describe a scene from Furious 7, but rather the unreal and all-to-common feeling a driver experiences at the time of impact during a car accident.
According to a report compiled in January 2015 by the National Highway Traffic Safety Administration, there were 5,687,000 crashes in 2013 -- a number that continues to swell each year.
If you're like one of the millions, understanding the appropriate steps to take can feel confusing and overwhelming. Luckily, there are five basics steps to take that are easy to remember and apply to any type of accident.
1.   Call The Police
In some states, it's simply the law to call the police after an auto accident. Even if it's not where you live, a police report can be used throughout the process of filing an insurance claim, proving fault and much more. DMV.org lists the many values of filing a police report:
Injuries may not become apparent for a few days or weeks.
You may not notice all of the damage to your car immediately.
The other party may make false claims about the car accident later.
The other party may admit fault to you but change his mind as time passes.
2.   Call Your Insurance Company
It's important to keep the initial conversation with your insurance company limited and free of detail. Understand that anything you may say can be used against you, and that it is best to only divulge details to a lawyer. Remain calm and polite to whoever you're speaking with and get the name and direct contact information of the representative you speak with.
3.   Collect Information
The first steps after an accident can be confusing if you haven't been in one before. Do not leave the scene of the accident until you collect the following:
Name, phone numbers and insurance information of all of the drivers in the accident.
A description of all of the vehicles in the accident, including the make, model and license plate number.
Photos of damages of all vehicles.
4.   Head To The Hospital
Even if there are no visible lacerations, bumps or bruises immediately following an accident, many instances of severe trauma do not show themselves until weeks even months following an accident. For example, traumatic brain injury is a common and at first silent consequence of auto accidents. On their website, Mayfield Clinic explains:
"Immediately after the accident the person may be confused, not remember what happened, have blurry vision and dizziness, or lose consciousness. At first the person may appear fine, but their condition can decline rapidly."
5.   Consult an Attorney
Even if you are in a simple fender bender, understanding the legal jargon associated with an accident is overwhelming to anyone who isn't professionally trained in it. Insurance agents will unfortunately pick apart what you say to make decisions that cost them the least amount of money. If you are in a severe accident where someone was injured, it's essential to involve an experienced attorney