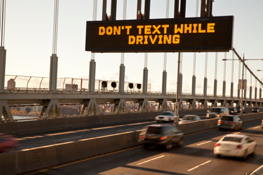 In a recent poll conducted by AT&T, 97 percent of teens agreed that texting while driving is dangerous, and they're right. Texting while driving is so dangerous that it makes a crash 23 times more likely. It's become such a public danger, that texting while driving is now illegal in 41 states, including the District of Columbia. Yet, we still do it. Why? There are many factors, not the least of which is our comfort level with cell phones and electronics. We may say we know that texting and driving is dangerous, but it's just a phone, right? How dangerous could it really be?
Fortunately, there are a number of awareness campaigns focused on bringing to light the dangers of texting and driving. These include Fort Wayne, Indiana's Parkview Trauma Center, the Ad Council, and the U.S. Department of Transportation (though they focus on distracted driving as a whole). The Orthopaedic Trauma Association even has a website set up where people can report distracted drivers. Distracted driving is also mentioned on David Resnick's distracted driving page, and it includes not only texting, but things we don't often think about, like talking to someone in the car or eating. But, perhaps no other texting and driving awareness campaign has been more effective than the one sponsored by AT&T.
Texting to Death
According to AT&T's dedicated website ItCanWait.com, about 100,000 car accidents a year involve drivers who are texting. On the same website they show heartbreaking video testimonies from people whose lives have been turned upside down because someone they loved was killed or paralyzed by a texting driver. There are also videos from the other angle: the drivers who were texting and ended up killing others as a result. Here are a few examples:
"I Love You": Chandler was sending this text when he hit and killed three children.
"I'm On My Way": Young Xzavier is paralyzed from the diaphragm down because the person who sent this text was too busy typing and sending it to look up and see him in the crosswalk.
Cap and Gown: This short documentary features a number of stories, including a teenage girl, Mariah, who died while texting and driving. The first officer on the scene noticed her shoes on the road, her disfigured face from having slid across the pavement, and the cap and gown in her car. She was supposed to graduate from high school the next day.
The Numbers
Hard numbers related to texting and driving are hard to come by because so much of the information that entities like the National Highway Transportation Safety Administration use is based on self-reporting done by those involved in collisions. However, here are a few estimates.
A person who is texting while driving is 23 times more likely to cause a car accident than they would otherwise.
Sending or receiving a text takes our eyes off the road for an average of 5 seconds. At 55 MPH, that's the length of a football field.
An estimated 9 people are killed each day as a result of someone who is texting and driving.
An estimated 24 percent of all car accidents occur as a result of cell phone distraction.
An estimated 18 percent of all car accident-related fatalities occur as a result of cell phone distraction.
Using a cell phone while driving delays the driver's reactions in the same way it would if the driver had a blood alcohol content of .08 (the legal limit).
Regardless of the exact accuracy of the numbers listed, one thing is proven time and time again – texting while driving is deadly. AT&T is right – it can wait.