Tesla Pays-off Government Loan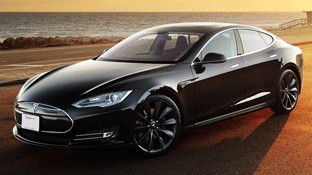 Tesla Motors builds luxury electric cars and was granted money from the Department of Energy for the development of advanced technology vehicles.
The loan was made for $465 million dollars in 2010 and was paid off 9-years before its due date in part to stock sales in the Palo Alto based company.
The Department of Energy loaned out over $34 billion to 19 separate car companies that develop clean energy vehicles.
Based on sales of the $70,000 Model S which can travel 300 miles on a single charge the company went public raising $968 million dollars to repay the debt ahead of schedule. Its stock which opened at $19/share is currently at $120/share and Tesla Motors is the first American Car company to go public in over 50 years.
Tesla as a company is worth more today than Fiat, a company that owns Ferrari, Alfa Romeo, Maserati and 20% of Chrysler.