Super Rare – 1955 Bubbletop Corvette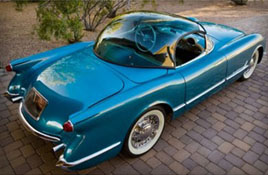 The Corvette debut in 1953 was by most reviewers not what today's Corvette enthusiast would think. With only 300 copies, an inline 6-cylinder engine and a 2-speed automatic transmission, it wasn't much to talk about. The reason they are so rare is that nobody would buy them.
In 1954 3,640 were produced, but 1,100 remained unsold. A major problem was the limited visibility and no headroom with either the factory soft top or aftermarket hardtops. The solution a concept car with a bubble top! Lots of headroom and unlimited visibility.
Well guess what? It wasn't just the roof that was the issue, still had a little bitty engine and 2-speed transmission…. Only 25 Bubble Tops were ever produced.