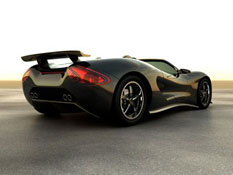 Everyone knows hybrid cars are just a stepping stone to reach the ultimate goal of a car that runs on the cheapest most abundant fuel source in the world, Hydrogen.
Ronn Motor Company in Texas has built a prototype Hydrogen car that produces 450hp and still gets 45mpg, they call it Scorpian.
Running on water, the Scorpion converts water into hydrogen gas. The hydrogen gas supplements the 3.5 liter internal combustion engine reducing the petrol used and lowering the emission while improving mileage.
The key to the Scorpions success is delivering hydron gas on demand and not storing it on-board.
Ronn Motors is confident that the sexy Scorpion will top 200 mph. The chrome-moly chassis and carbon-fiber body surrounds a twin-turbo 3.5-liter V6 in a car that weighs just 2,200 pounds. The engine was sourced from Acura — it's the same mill found in the TL Type S, albeit turbocharged — and mated to a six-speed gearbox. The car will set you back $150,000, and if 450 ponies isn't enough, another $100 grand will get you a tweaked version with another 150 horsepower.