Prepare for summer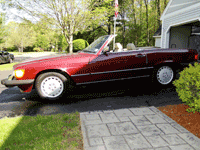 Summer. There is no better feeling than driving along in your convertible with the top down.  The summer breeze whipping your hair around, the smell of the salty air from the ocean and the sunshine warming your skin, what's not to love?  If you look forward to summer just as much as most do and you spend most of your time planning your summer season with all of the baseball games, beach getaways bonfires, and anything else you can think of, why wouldn't you take the necessary precautions to prepare your car for the summer season too?
Hot, Hot, Hot
It is very important to have your car's coolant system checked.  In the extreme summer temperatures, your coolant can reach as high as 250 degrees Fahrenheit, causing your car to overheat.  Nobody wants to be stuck on the side of the road, especially during the warmer months!  In order to check your cooling system, you'll want to check the radiator and hoses for leaks or cracks.  Be sure all of the connections are snug and before even getting under the hood, make sure your engine is cool! Once you have gone over the coolant system, you should also do a routine maintenance check-up.  This all may seem like a hassle now, but it will keep you from losing precious time doing all those fun summer activities!
Keeping Cool
If you prefer air conditioning over windows down in the summer, then you definitely want to make sure you have your air conditioner checked.  According to DriverSide, any maintenance or check to the vehicle's refrigerant should be done by a qualified professional.  But know what they should be looking for!  Ask your mechanic to look over your compressor, evaporator and thermostat to ensure you are getting the right level of A/C from your vehicle.  There's no better time to get this checked than now!  If anything seems a little off, you can get it replaced before the start of summer and you can keep cool all summer long!
Pump Your Brakes!
No seriously, give your brakes a few pumps to check them out!  The DMV states you should inspect your brakes if your summer includes frequent thunderstorms and rain, since wet brakes can be less responsive.  You can either refer to your owner's manual (or your mechanic), on inspecting your brakes.  When you are having your brakes inspected, find out about the brake pads. The warmer temperatures can increase the temperature of your braking system, which can wear your pads more quickly.
Summer is a fun and exciting season, but not checking any of these things in your car could potentially lead to a car accident.  By taking the necessary precautions to ensure your vehicle's cooling system, air conditioning, and brakes are in proper working order, you can expect a more pleasant, safe, and reliable warm weather driving experience!