Stolen 1970 Mercedes-Benz 280 SL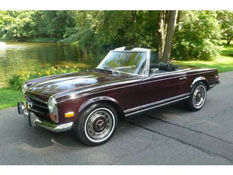 John Travolta's 1970 280 SL was stolen from the 1400 block of Berkeley street in Santa Monica in broad daylight.
These cars are highly collectible and it's estimated only 2,400 '70 280 SL's were imported to the US.
The average 280 SL can bring $55k to $75k, with restored cars getting over $100k
A reward has been offered for information leading to the arrest and conviction of the thieves, but If I had to bet on it it's likely to either parted out of out of the country at this point.
Anyone who sees the vehicle -- its license plate is 3RBZ737 -- is asked to contact Det. Steve Smetzer at (310) 458-8936 or Sgt. Henry Ramirez at (310) 458-8453. Investigators can be reached through the 24-hour line (310) 458-8495 and those wishing to remain anonymous can call WeTip at (800) 782-7463 or visit their website at www.lacrimestoppers.org