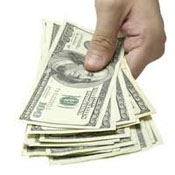 For the entrepreneur that is full of spirit and the drive it takes to make a profit, buying an existing franchise could be the best bet.
Buying a franchise is like cutting a large amount of the risk out of setting up a business. Franchising gives you the right to use the name and trademarks of an existing company, rather than risk it with an unknown new business.
While the risks may be lower, it does not mean that they do not exist.
If the franchisor offers to help you obtain a loan from a bank, see if you are eligible for an SBA (Small Business Administration) guaranty on a loan. Auto Appraisal Network is SBA approved and your franchise loan guaranty application will be sped through the normal channels and allow you to get your money faster than with an unregistered franchise or an ordinary small business.
The SBA doesn't actually lend any money. What they do is guaranty up to 90% of franchise loans from commercial lending institutions. These loans can help the entrepreneur with the funding he or she needs to get his or her franchise off the ground and into the skies of high profit.
For you, the franchisee, the SBA offers a wealth of programs and information to help the small franchise owner put things on the right track. If your bank feels that you have the character, business experience, business plan, and potential for cash flow, but not the necessary capital or collateral to receive a loan for your franchise, then they may want an SBA guaranty before they will make the franchise loan.
The SBA can give franchise owners access to funds that were previously unavailable due to capital limitations. Better yet, these franchise loans have interest-rate limitations and long maturities, and the majority of the fees that banks often charge are waived with their guaranty.
Protect your investment