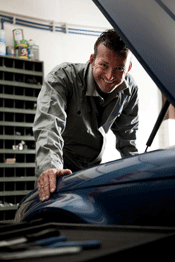 A true vehicle connoisseur understands the power that goes with knowledge and that comes from learning new things. Technology is expanding ways you can educate yourself on current automotive topics like maintenance techniques, distinctive tools and alternative fuel options. Technology is also changing the automotive industry as a whole, so the learning is never quite over. Consider some intriguing methods to grow your auto knowledge base.
Car Talk
Chances are you've heard the "Car Talk" guys on NPR over the years. The recipe is simple: brotherly humor and an unbelievable wealth of auto knowledge. Listeners call in and ask experts Tom and Ray about car troubles, and the brothers offer advice and encouragement.
Cartalk.com offers archived shows that inform and delight. You can read blogs that deal with relevant questions such as getting Mom a ride for Mother's day and neat repair tricks. This is the place to get feedback on car models, learn which tool is the right for your next project and to kill some time playing car-related games.
Read to Learn
The auto industry is consistently evolving, and Car and Driver magazine is on the front lines, reporting the latest cars, news and technology. This is a comprehensive resource for car lovers of all kinds.
The publication is available both online and in print. That means, if you are a more traditional reader, you can look forward to getting a magazine in the mail regularly while still enjoying the perks of the website.
The Visual Experience
Online and print options are fine, but nothing compares to a good TV show. One of the best available on the air these days comes from SpeedTV: "The Car Show," hosted by Adam Carolla. Adam Carolla is a name you might recognize from his other ventures. He currently hosts a record-breaking podcast talk show, but came to fame for a call-in radio broadcast that ran for 10 years. Carolla is also a best-selling author.
On SpeedTV, Adam joins up with car experts Dan Neil and Matt Farah to discuss anything and everything about the automotive industry. You can learn the ins and outs of parallel parking, find out what is good about the Audi R8 and even enjoy a heated discussion about Nascar. If you're looking to upgrade your cable, www.DirectSpecialTv.com offers SpeedTV and other niche in packages that start as low as $29.99 per month.
Nothing like Hands-On
Of course, once you fully immerse yourself in resources like podcasts, television shows and magazines, you will be looking for some hands on car action. This is by far the most practical learning tool at your disposal, so pop the hood and put what you know to use.
Pick projects inline with the knowledge you pick up from other places. That way you are integrating the things you hear and see with actual work. Many of the available resources offer Q&A segments, so keep a list of questions that come up as you tinker under the hood.
Take what you learn and network with other car enthusiasts. Through forums, discussion groups and social networking you will further expand your auto knowledge base while helping others educate themselves at the same time.
The automotive industry is ever evolving. Even if you have been working on cars your whole life, there are still things to know. With new technologies coming out all the time, staying current is part of the fun.