Numbers Matching GM
During the auto appraisal process one of the first things that needs to be determined is if were evaluating an original numbers matching, date correct or correct configuration vehicle. On GM vehicles a numbers matching car actually have numbers that match on major components, although unlike a Mopar many of the options that dictate significant value are difficult to determine without the protect-o-plate information. Things like a Tri-power GTO or a RS/SS Camaro are poorly documented on GM cars.
While you can actually have number that match, the question is then, has that number been restamped?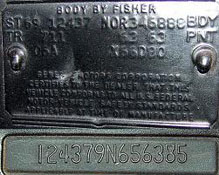 Protect your Investment. Have it appraised!