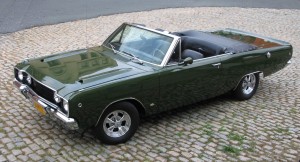 This car is THE 1968 Dodge Dart GTS convertible that was used from 1968 until 1970 in the popular CBS Television series "MANNIX" starring Mike Connors and Gail Fisher.
The history of this particular car is most interesting. "Mannix" debuted in 1967 and the lead character, Joe Mannix, worked for a private detective firm called INTERTECH. However, Joe Mannix tended solve cases his own way rather than follow the company rules. During the first season, Mannix drove an Oldsmobile Toronado customized by George Barris.
The show, though popular with fans, wasn't quite the success that CBS had wanted and rumors of cancellation circulated. Luckily, "Mannix" had a guardian angel in the form of Lucille Ball whose company Desilu produced the series. She liked the show and she liked Mike Connors enough to persuade CBS to give the series another chance. CBS agreed and the producers decided to revamp the show. It is this revised form with Joe Mannix now working out his own office with his secretary, Peggy, that the show went on to great success.
It was also decided that the Toronado would be replaced as Joe Mannix's mode of transport as it was thought to be too "flashy" for a Private Investigator. In it's place, Chrysler Corporation provided a red 1968 Dodge Dart GTS convertible. Bruce Geller, the producer of "Mannix", was a car guy and liked the GTS but thought that the color red was again "too flashy" for a detective.
Mr. Geller again called on "The King of the Kustomizers", George Barris, to work his magic on the GTS. Mr. Barris repainted the car dark green, modified the grille to accept Lucas Flamethrower lamps, added "tunnel port" scoops to the hood, reshaped the rear of the car with a flared spoiler, modified the taillights and decklid trim, and added Rader mag wheels and a racing mirror for a little added pizzazz.
Mr. Geller was quite pleased with the car and it was used for the next two seasons of "Mannix". Chrysler Corporation was also pleased with the attention the GTS received and supplied the series with a 1969 GTS which was also modified by Mr. Barris. At this time, the 1968 car was updated with Cragar wheels and the racing mirror was replaced with the original remote unit.
Contrary to published reports, both cars were equipped with the 340 engine. This can be quite clearly seen in the episode when the hood is raised (and the original red engine compartment is shown!).
After series duty, the car was sold into private hands and fell into obscurity. It was found in the early 1980's in a California forest under a Ranger's lookout tower in very poor condition.