Jensen Interceptor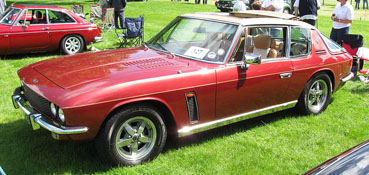 They just keep coming, got a call on a Jensen Interceptor. I had never seen one of these in person, but what's all the commotion about? So I decided to Google it and find out what is so special about this car.
Wholly mackerel, a British car with a big block Chrysler engine in it. Not just any engine a 440 CID with a 4-barrell carburetor producing 305hp and a larger tri-power producing 330hp. What kind of tranny? A 727 TorqueFlite of course. Keep in mind this is a British car with an American Muscle Car drivetrain weighing rough 3,500 lbs, it was one of the fastest four seat cars of the period.
Jensen produced 6,400 Interceptor from 1966 to 1976 in the UK using a fiberglass body for early cars and a steel body for later cars. Jensen had been building cars in the UK since 1934 which were mostly fiberglass bodied sports cars. The mid-70's world-wide recession closed the doors at Jensen, but the Cars live on.
The average Jensen now sells for roughly $20,000 to $30,000, but restored ones have brought $80,000 to $90,000 at auction.