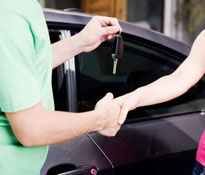 Spending less and saving more seems to have been the trend for many drivers this past year. As a financial consultant, I normally advise my clients to resist buying a new car and instead try to get the problems with their current cars fixed. But there are exceptions in certain situations. If it's your check engine light, you can maybe wait a month before getting things checked out. If your brakes are sticking, you probably should visit your mechanic immediately. If your transmission needs to be replaced — you might as well start over with a better used car.
In an effort to not compromise quality for price, I did my research and found there are both affordable and high-level performing used cars being sold at dealerships nationwide. Gary Hoffman, the correspondent for AOL Autos and Tara Baukus Mello of FoxBusiness.com weighed in on some of the hard-pressing issues that are faced in the auto industry. Online, both experts offered valuable information that every driver should know before he or she buys his or her next used car.
Go Where the Great Deals Are
After analyzing data that was collected by AOL Autos, Hoffman found that certain cities had a lower MSRP (Manufacturers Suggested Retail Price) on used cars than other cities. Hoffman's data showed that the MSRPs for used cars in Dallas, Texas were marked down 8.8 percent, while in Virginia the same used cars were only marked down 7.5 percent. So in this example, it may be smarter to look for a discount even if it is out of state. Though the car may be 1,000 miles away, if you're saving $3,500 you could justify the plane ticket expense and still get a great deal. So, if you live in Virginia, and you travel to a Toyota of Dallas used cars lot, you may still get a better deal than if you would have bought your car at home.
Car Depreciation Stabilizes
According to Baukus Mello of FoxBusiness.com, the car that you purchase, whether it's new or used, will likely re-sell for a better price, too. In her report, she said according to NADA.org, the National Automobile Dealers Association's website, the depreciation rate for used cars is slowly stabilizing. This year the NADA predicts that used cars will depreciate an average of 15.9 percent. That same average is expected to increase to 16.6 percent in 2014. These figures are certainly an improvement from the 26.5 percent car re-sell depreciation that we saw in 2008, when the used-car depreciation hit the highest rate we've seen in the last 20 years. The average rate from 1996 to 2007 was 21 percent, so these lower numbers offer great news for people who might also be looking into re-selling their car after a year or two. However, if you're thinking of getting a pick-up truck, you might as well keep it until it's ready for the scrap yard, Baukus Mello reported. These rates only apply to four-door cars.