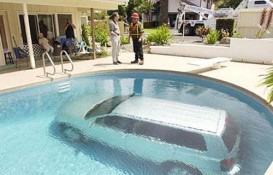 What makes your insurance coverage good or bad?  A lot of people say it's the rates.  But actually they are all somewhat competitive and the difference in rates is not as important as the ultimate reason you buy insurance.  The real difference in Insurance companies is the coverage and how your claim is paid.
Aside from making sure you're buying the right type of insurance, Classic and Collectible cars worth more than average, garaged with low annual miles should be insured by a specialty company that sells "Agreed Value" insurance.  If your insuring your daily driver, it will most likely be covered by "Stated Value" Insurance which covers the Fair Market Value of the vehicle at the time of the claim.  What really make the difference in companies that sell stated value insurance is their customer service and their claims policies.
Until you have a claim you will always be working directly with an Agent or broker that make sure you have the best coverage for the best prices.  As soon as you do have a claim that agent or broker is going to turn you over to someone you don't know and the agent or broker doesn't know to determine how to best take care of your claim.  All the claims adjuster knows is what's in the computer and what coverage you bought.  From there on out they will make sure that your car is either repaired or you are paid the fair market value for your loss vehicle.  All of a sudden you start looking around at what it's going to cost to get another car like the one you had and the insurance company is giving you a lower number that doesn't seem like it will quite be enough to get you back to where you were.
This is the point where as appraisers we get a call from curious clients and asked, what are they offering me less than it will cost to get another car?  What can I do if I disagree with their settlement?  We'll tell you that it's based on the type of policy you have and the insurance company you bought it from.  Specifically there is a provision in all car insurance policies for disputing a settlement value and within the policy it's called an "Appraisal Clause".  In my opinion the Appraisal Clause make the difference between a good insurance company and a crappy one.
Good insurance companies have a straight forward policy of you and the insurance company get the car appraised, and discuss the differences and come to an agreement as to the value.  Some of the fairest Insurance companies are State Farm and AAA.
A Bad insurance company makes you jump through hoops and there are additional fees and the process is long drawn out and designed to discourage disputing your claim.  You can either take what they offer or spend a bunch of time and money to get little return.  2 of the worst Insurance companies, that I discourage our clients from even buying insurance from are Allstate and Liberty Mutual.   I don't care what kind of rates they offer, it's not worth it if you have a claim, and that why you buy Insurance.
Before buying insurance for your daily driver car, understand the process for disputing a settlement value!