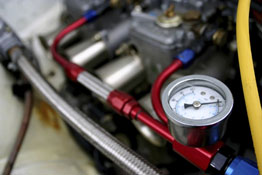 Addressing the need for fuel efficiency and function, the 2013 Acura ILX is borrowing engine technology from the very practical Honda Civic, thus raising the question: Does Acura still consider itself a luxury brand? Carrie Kim, of Cars.com, says you can expect both style and performance to be high scoring qualities of this smooth driving sedan. True to form, the ILX's performance resembles the Civic, a fine four-door in its own right. Kim says both the interior and exterior design promote a luxury atmosphere, even though interior features still leave something to be desired.
The payoff of the Acura ILX is savings. At an MSRP of $25,900, the ILX is a viable option for someone breaking into the luxury vehicle market, says TheWeeklyDriver.com's James Raia.
Economy Engine Under a Luxury Hood
Pros: Behind the wheel, the Acura ILX feels like it should go faster than it does—a closer look at the engine specs reveal why. It comes with a 150-horsepower, 2.0 liter engine with Acura parts that deliver reliable, yet uninspiring performance, said Raia.
The ILX comes equipped with a manual transmission, so drivers looking for optimal performance will be able to squeeze every inch of power out of this somewhat tepid engine.
Aside from power, the ILX performs like a luxury vehicle. The steering has an ideal weight with limited friction, and the balanced frame handles torque with ease, creating a road-gripping ride. It doesn't have as much power to handle as most luxury vehicles, but the ILX ;controls its Civic engine with precision.
Cons: Acceleration lags behind luxury counterparts, so aggressive drivers looking to cut into their commute times may want to look into getting a stronger engine. Since Acura has an available 201-horsepower, 2.4-liter model, getting a more muscular engine for your ILX doesn't have to be out of reach. Insideline.com clocked the 2.4L manual-transmission ILX at zero to 60 in 6.8 seconds, which is at least a second slower the most BMW and Audi sedans.
The ILX gets an EPA estimated 24 mpg city/35 mpg highway, but while these ratings eclipse many luxury competitors, budget-conscious shoppers may be dejected that this Acura requires premium fuel.
An Expensive Look
Pros: The sleek, angled body of the ILX is visually pleasing, and the interior promotes a modern style, according to Cars.com. Available in charcoal or tan upholstery lining seats, this five-seater can do handle the job of family transporter, even though it's not the most spacious cabin. Along with customary luxury features including keyless entry, a power sunroof and automatic temperature control, the ILX has a useful navigation system and DVD player.
Cons: The front seat passenger or driver may have to sacrifice comfort while driving with a car seat says Kim.
Premium Safety
The 2013 Acura ILX may not meet luxury standards in terms of performance, but according to Autos.ca it's ahead of the curve in terms of safety. It's Advanced Compatibility Engineering (ACE) body structure distributes crash energy throughout the vehicle to protect occupants during frontal crashes. Stability features include traction control, anti-lock brakes and dual-stage airbags further prevent accidents and protect occupants.