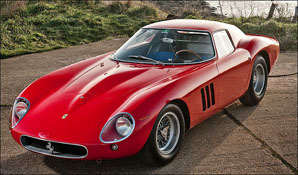 Why does a Ferrari always seem to make the top collector car of the period while the Lamborghini never quite makes it?
From the US market perspective both manufacturers are considered European Super Cars, or more specifically Italian Sports Cars, but if your watch the Pebble Beach auctions, Ferrari dominates the record breaking prices paid. Whether it's a 250 GTO, a Daytona or a F40, Ferrari cars bring big bucks while the Miura, Countach and Diablo just hang right in in there, but fail to make the record sales.
What's up with that? Lamborghini was formed in Italy in 1963 by Ferruccio Lamborghini and Ferrrari in 1947 by Enzo Ferrari. It's rumored that Lamborghini was formed after Ferruccio was unable satisfactorily have his 250 GT clutch serviced by Ferrrari and decided he could build a better sports car.
While Ferrari started in 1947, Enzo had a long racing history in Alfa Romeo cars to Team Ferrari or 'Scuderia Ferrari'. Ferrari produced their first production car in 1947 and has a whole series of formula 1 wins over the decades in addition to supplying other teams with winning race cars. Ferrari considered joining Ford in the 1960's, but that fell through and ultimately was sold to Italian manufacturer FIAT in 1969.
Lamborghini on the other hand gained fast on Ferrari in 1963 by producing the V12 engine 350GT which was later transformed into the Famed Lamborghini Miura. By 1972 Lamborghini was sold to a Swiss company, The Countach production started in 1974 but didn't reach US shores until 1982. In 1987 Chrysler acquired Lamborghini who in turn produced the world's fastest production car in 1990 the Diablo. Lamborghini was sold to an Indonesian company in 1994 and again sold in 1998 to German based Volkswagen. While Lamborghini is capable, it has avoided marketing itself as a Racecar and maintains an exotic supercar reputation.
In short, Ferrari has a loyal fan base that has always know Ferrari to be an Italian Race Car while Lamborghini is a multinational brand that has few race champions and has priced itself out of the hands of most collectors and therefore Ferrari has a larger buyer base willing to pay for the Ferrari brand.