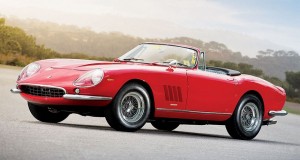 The American Ferrari distributor and founder of the North American Racing Team, or NART, Luigi Chinetti asked his longtime friend Enzo Ferrari to manufacture a limited run of 25 Spyder (Convertible) variants of the previous year's 275 GTB Berlinetta, Enzo said no.
There are several theories as to why Enzo said no, but the Founder of Ferrari specifically declined the request for the Spyder. So, having been told by the head of Ferrari, Enzo himself that he refused to make it, Chinetti approached the long-time associate of Ferrari currently building the Pininfarina designed 275 GTB/4, Sergio Scaglietti.
Scaglietti agreed to build the cars for Chinetti at the dismay of Enzo Ferrrari.  Taking factory produced  275 GTB Berlinetta's and converting them too Spyders.  While the initial idea was to convert 25 car to Spyders and in the only 10 examples are believed to have been built before the 275 GTB was replaced by the 365 GTB/4 'Daytona' in 1968..  Making these special NART cars one of the rarest Ferrari's ever built. It is rumored that Chinetti bought the Berlinetta's  for $8,000.
Noted Ferrari 275 GTB/4 cars are:
Chassis number 09437 GT, which was an alloy bodied car originally painted a pale yellow and later appeared in the Holly movie The Thomas Crown Affair.
Chassis number 10453 went on to be purchased by Steve McQueen
Chassis number 10691 is the seventh of ten constructed. It is a left hand drive vehicle.
Chassis number 10709 recently sold at Auction for $27.5 million dollars at RM and is the most expensive Ferrari sold at Auction.
Today Ferrari 275 GTB/4 is among the most sought after Ferrari of all time. All of them are owned by big collectors and when they do come to the market they demand very big money.