Fake Chevelle Z16 - Busted!!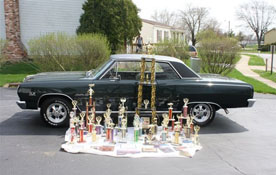 Bobby thought he'd figured out a way to make a few bucks off a 1965 Chevelle. He'd punch out his own trim and VIN tag, throw in a 396 and some badges, and stick the car up on a popular online auction site for a quick $100,000. That's what he did, last April. Only problem: There's more to a Z16 than that, and the Z16 guys pay attention.
Further, whoever made the fake cowl tag copied the body # of a real Z16 (14629) from a picture!! The body numbers were not reused; each Z16 has a different body #; so your car could not have body # 14629 even if it was a real Z16.
Bobby stated in the auction that it has a 160 MPH speedometer, but in the pics I can see that it is a 120 MPH speedometer.
In fact, with homemade tags, the car was unsaleable, and as tampering with them is a felony, the only possible way to rectify the situation would have been to remove them and have the (Ohio) state DMV issue new, correct ones. Those wouldn't have indicated it was a Z16, but it could have been a nice, $25,000 Malibu.
Eventually, Bobby wised up and after four days – four days of furious discussion among Z16 fans and numerous attempts to get him to come clean – closed the auction.
By then, however, someone had contacted the Ohio State Highway Patrol. The jig was up. On June 27, 2011, a Franklin County Grand Jury indicted Buddy, one count each of Tampering with Records; Possessing Criminal Tools; Telecommunications Fraud; and Attempted Criminal Simulation. He was looking at a possible eight years in jail. That didn't happen. He pleaded guilty and at his sentencing on April 10, 2012, he received two years probation for a first offense, which he has to serve in West Virginia. He also gets the impounded car back (!), once it gets a VIN installed and title issued.
For all of you out there thinking of cloning a car and trying to pass it off as the real thing, let this be a lesson: the authorities do indeed pay attention and bust fraudsters when they see them.