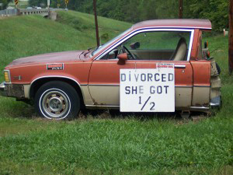 A few years ago, the AAN of Dallas owner, Ron Gibson, helped a car owner as she prepared for her divorce.  She had six cars that needed to be fully appraised to determine their current values and chose our company for advice and support.
The cars being appraised included four Mustangs, a Thunderbird, and a Fairlane 500.  Ron took over 500 photos of the cars to incorporate into the separate appraisals.  The total appraised value of the vehicles was over $200,000.
Ron had the opportunity to spend time with the owner's father-in-law as they drove to each car's storage garage around town.  Their visit was memorable and gave Ron the idea to recommend the owner's ex-husband eventually give the Thunderbird to his dad.  His dad had cancer was going through a rough patch during the time of the divorce.
When Ron's daughter, Stephanie, spoke to the owner last week, she had great praise for the appraisal as well as the support that Ron gave her family throughout the process.  She even thanked him for the advice he offered on how to handle the cars as the divorce carried on.  Her father-in-law has continued to be very ill and now enjoys sitting in the Thunderbird on sunny afternoons and being driven around town on occasion.
The time we spend with our clients is about giving them the best appraisal and information currently available.  Our family owned business comes to know each owner and car enthusiast.  We are here to help protect your investment.
Our appraisals are all carefully researched and prepared in order to provide documentation that can be submitted and hold up in court proceedings.  Our professional appraisals receive high praise and numerous referrals.  Plus, adjusters and lawyers have never told us, "That is just too much information."
Contact AAN of Dallas to help you organize and prepare for your divorce or other stressful family financial situation.  We have many types of appraisals to help you and your family.