Before hybrids and pure electric vehicles got all the attention, diesels were the go-to engine for those in search of better fuel economy, more torque and a longer service life. Even in the age of the Toyota Prius and Tesla Model S, the future of the diesel engine remains bright in the U.S. Although diesels make up just three percent of the U.S. vehicle market, analysts believe that diesel market share will climb to as much as 10 percent by 2020, a recent report from the Biodiesel Foundation notes.
And the future looks just as bright for diesel vehicles in 2014. That's when the latest batch of diesel vehicles is set to hit showroom floors. These offerings run the gamut from economy-minded compacts to rugged and reliable heavy-duty pickup trucks.
What's the Deal with Diesel?
Fuel efficiency is one of the big reasons why car buyers choose diesel vehicles. The US Department of Energy notes that diesel engines are 30 to 35 percent more fuel-efficient than similarly sized gasoline engines. The recent introduction of ultra-low sulfur diesel fuel and diesel emissions treatment technologies also serve to make diesels as clean as their gas-powered counterparts.
But it's not just fuel efficiency that people look for in a diesel. Thanks to their sturdier construction and ability to generate more power and torque while using less fuel, diesel engines are a staple among heavy-duty truck buyers. Diesels are also making their way into the engine bays of their light-duty counterparts, as evinced by the upcoming Ram 1500 EcoDiesel.
Vehicles to Look for in 2014
2015 Ford F-Series Super Duty - $ TBA
Attendees at the State Fair of Texas recently got a glimpse of the 2015 F-Series Super Duty lineup, most likely to appear during the latter half of 2014. A recent Ford press release mentions improvements to the second-generation 6.7-liter Power Stroke V8, including a larger turbocharger, will result in better efficiency and a power increase from the current Super Duty's 400 horsepower and 800 pound-feet of torque.
2014 Ram 1500 EcoDiesel - $29,580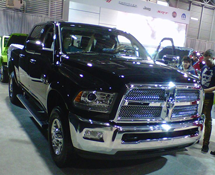 Photo by Bull-Doser via Wikimedia Commons
For years, truck lovers wondered why stout, hardworking diesel engines were no-shows in the light-duty pickup truck segment. The latest Ram 1500 EcoDiesel fills in this gap with a strong diesel suited for the task at hand. Instead of the 6.7-liter Cummins turbo-diesel found in the heavy-duty variants, the Ram 1500 receives a 3.0-liter turbo-diesel V6 also used in the new Jeep Grand Cherokee diesel. According to Ram, the DOHC 24-valve diesel mill produces 240 horsepower and a substantial 420 pound-feet of torque.
2014 Chevy Cruze Turbo Diesel - $25,810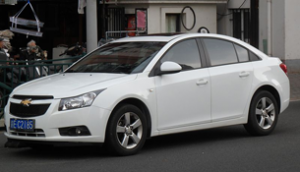 Photo by Navigator via Wikimedia Commons
In addition to the frugal 1.4-liter turbocharged engine, the Cruze Turbo Diesel also adds a 2.0-liter turbocharged diesel engine to the mix. This engine not only cranks out 151 horsepower and 264 pound-feet of torque, but it also achieves an EPA-estimated 46 mpg highway while generating 90-percent less nitrogen oxide (NOx) emissions than previous diesels, according to Chevrolet.
2014 Volkswagen Jetta SportWagen 2.0L TDI - $27,070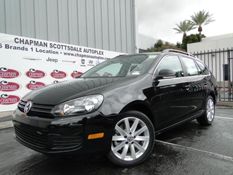 Image via Chapman Volkswagen Scottsdale
One of only two diesel wagons sold in the U.S., the Jetta SportWagen's four-cylinder two-liter diesel engine boasts a high EPA rating. The automatic transmission model gets 40 miles on the highway and 30 miles in the city, according to the New York Times. The SportWagen puts to shame gas-guzzling SUV's for efficiency and versatility. With the TDI engine, sleek design and roomy interior for hauling, this vehicle pushes its way to the front of the line for economical and environmentally friendly cars.
2014 Mazda6 SkyActiv-D - $22,000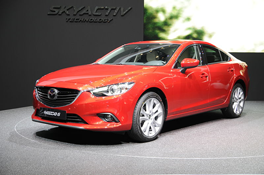 Photo by Noebu via Wikimedia Commons
Madza is known in the U.S. more for its "zoom-zoom" Miata and the rotary-engined RX-8. The company's new 2.2-liter turbo-diesel engine is available in two flavors – a standard version with 148 horsepower and 280 pound-feet of torque and a "high power" version with 173 horsepower and 310 pound-feet of torque. The new motor is estimated to deliver up to 40 mpg in highway driving and 29 mpg in the city. The 2.2-liter mill also boasts an 14.0:1 compression ratio, which Car and Driver notes is the lowest ever seen in a production diesel engine.