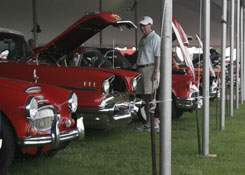 Consider buying a classic or collector car as an investment. Classic car values have remained stable in this unstable market.
The Barrett-Jackson mini-index was created in 2003 and consists of representative cars that reflect the diversity seen in the collector car market. These cars span from 1957 to 1970 and are primarily European and American sports cars and U.S. muscle cars. The cars used in the index are the 1957 Thunderbird, 1967 Jaguar XKE, 1967 Shelby GT500, 1970 Camaro Z/28, 1970 AAR 'Cuda, 1965 Austin Healy MK III and a 1967 Corvette 427/435.
But even more fundamental than that, wouldn't an investment have to be realized by actually selling a collector car? What fun is selling a collector car? If any old car guys are like me, they want to keep their collector cars to enjoy them, reality of space, budget and time to enjoy them be damned. Sure, cars can be a big investment, but so can any hobby.
Want an alternative to buying a collector car but still reap the benefits? Try a Collector car investment fund.
Speculative interest in using vintage cars as a means of investment have been in use for decades, but recently a new, more organized approach, has been unveiled by IGA Automobile.
Headed by Ray Bellm, the former president of Grand Prix Racewear and himself a racer having won the BPR GT Championship in a Gulf McLaren F1 GTR, the IGA Automobile LP Fund aims to purchase the highest quality collector cars on the planet ranging from the likes of Ferrari 250 GTOs and Aston Martin DB4GTs, to vintage Formula One and race machinery such as the Ferrari 312B and the Ford GT40.
The Fund's objective is to procure a number of high echelon collector cars and sell them for capital gain over the course of the next few years. Those who have the required initial investment will be able to take advantage of a team of knowledgeable collector car professionals and be secure in knowing that these professionals, with their experience in the collector car market, will do their best to steer the fund to victory despite the apexes that an uncertain global economy may present. The fund is currently not available to US-based investors, although plans are in place to develop a separate US fund based upon the same idea.