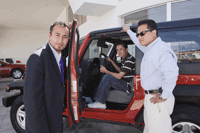 When a teenager finally gets his or her driver's license it's a bittersweet moment of celebration and new found stress for parents. As a parent, you are no longer obligated to chauffeur your teen to school, work, and other activities. You finally have time to yourself, but your level of worry and stress could increase. Letting your teen out on the road, alone, can be scary. With hope, choosing the right car for your teen driver can put some of your worry to rest.
It's time to go car shopping with your teen, consider adding these tips and to your "checklist":
Skip the Dream Car
Your teen probably has a "dream car" picked out, but in reality, it might be a little impractical, expensive, and not suitable as a first car. Skip the sports car or any car that might tempt your teen to engage in reckless driving. You don't need to skimp on aesthetic appeal, but safety should be a number one priority when choosing a car for the teen driver in your life.
Teen drivers have been driving older cars or "hand-me-downs" for decades and while these vehicles are usually perfectly suitable for new drivers, don't settle for just any used vehicle.
Used Car? Check it Out
As you would with anything pre-owned, it's important to thoroughly check out a used car.  Whether you found a good vehicle for your teen on sites like Craigslist or at a local dealership, you will want expert advice (and a check up) from a mechanic you can trust.  Additionally, you and your teen driver should test drive the vehicle a couple of times to make sure it feels comfortable and that there aren't confusing features on the car.
Make sure these safety features are in good working order when looking at a used car. If the vehicle is missing any of these features, skip the car:
Properly fitting and working safety belts
Air bags (the more, the better)
Anti-lock brakes and stability control
Need used car recommendations?  Check out these top safety picks for teen drivers.
Size Matters
A mid-size vehicle is your best bet for safety.  While a smaller car can be easy to control and more economical, they typically offer less protection in crashes. Additionally, a SUV or truck is more at risk of rollovers. Regardless of your vehicle's size, it's wise to make your decision based on crash test safety ratings.
Beware of a Bargain
When shopping for a car, price is important. For many reasons, you might be hesitant to put a large amount of money down for a first car, but you can't put a price on safety.  If you find a car within your budget, you will want to take the time to make sure it passes all safety guidelines.  If there are things that need to be fixed, make sure you have them repaired before your teen drives the car or just skip the purchase.
If a car seems too good to be true, it might be.  Always do your research and make your teen's first car safe.