Beatnik Featured at Long Beach Motorama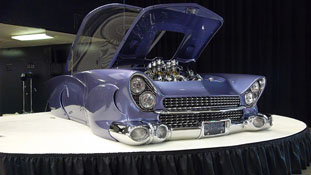 Just when you thought you had seen the wildest Kustom ever along comes something from the East Coast builder, Gary "Chopit" Fioto. Talk about being ahead of his time. His Kustom creation "Beatnik" '55 ford Kustom is blowing away everyone who sees it and you should expect to see this one-off Kustom on the show circuit.
"Beatnik" the custom Bubbletop won the coveted $20,000 Grand Prize at Darryl Starbird's National Rod and Custom Car Show. The Beatnik has received a number of awards, including the "Blackie" Gejeian's 2005 Fresno Autorama Sweepstakes Award, "Outstanding Custom" at the 2006 Grand National Roadster Show and the George Barris Kustom d'Elegance Award.