Barrett-Jackson, Not just cars, but Philanthropists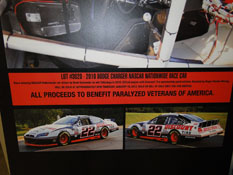 As most people who are into cars can attest, Barrett-Jackson is the place to go is you want to see some of the best collector cars available. If you're a Barrett-Jackson junky like me, you know that every show has a headline vehicle that brings premium bidders to their feet and raises money for one charity or another.
At the 2012 January Scottsdale auction 22 vehicles were sold and he proceeds of those sales went to several charities including Paralyzed Veterans of America, Casa Esperanza para Ninos "Child Help" and the Armed Forces Foundation.
This is only the tip of the iceberg for the hugely successful auction company who has now established the Russ and Brian Jackson Cancer research Foundation which helps the Translational Genomics Research Institute (TGen). TGen Scientist are developing diagnostics and therapies for patients battling colon and prostate cancer.
More than just the "Worlds Greatest Collector Car Auctions"
Protect Your Investment. Have it Appraised!!