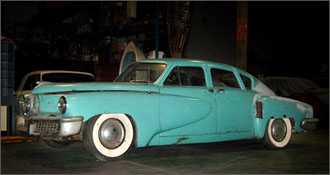 "The extraordinary 1953 Fiat 8V Supersonic we are offering in Scottsdale is one of the most original cars we've ever brought to auction," David Gooding said.
"Bodied by Ghia, it is a superb example and only one of 12 "Otto Vu" Supersonic models ever created. This car has only been driven 18,000 miles since new, is in excellent condition and its unrivaled originality should make it a contender in any preservation class.
This 1948 Tucker was recently found after it spent more than 50 years in a Pacific Northwest barn. This Tucker, serial number 1010, was once thought lost. It has 10,000 miles on the odometer. Records show that this Tucker raced at the Bonneville Salt Flats in the early 1950s and reached a top speed of 134 mph.
This ultra-rare barn find Tucker is in near-original condition and is expected to bring more than $1m when it crosses the Gooding block in Scottsdale.
Protect your investment, have it appraised!