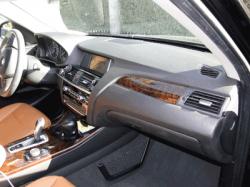 With its cool weather and changing leaves, fall is the perfect time of year to take a road trip. Whether you're headed out of town to visit family for the holidays or you're traveling to the mountains with friends, having your car loaded with the necessities is crucial for a successful drive. Check out these 6 car accessories that will help make your road trips even better this season! 
RAM Mounts Suction Grip Mount
This cell phone mount makes long car rides so much easier. You can easily use the navigation on your phone and have it within eyesight, making your drive much safer as well. If you want something slightly less heavy duty than the suction mount, you can also find options that clip onto your air vent and attach to a Smartphone with a magnet. 
Drive Car Garbage Can
This waterproof container can attach to a headrest, glove compartment, door handle or the center console. There are few things quite as satisfying as not having to deal with trash at your feet on road trips. While it is fantastic for storing garbage on long car rides, it also makes a great drink cooler. 
Nulaxy Bluetooth FM Transmitter
The Nulaxy transmitter plugs right into your car's cigarette lighter. This accessory allows you to listen to music, podcasts and much more on your phone via Bluetooth. It also has a USB charging port, so you can keep your phone plugged in simultaneously. 
Increased visibility on the road is so important for safety. If you're spending lots of time driving on the highway or on winding mountain roads, it can be helpful to have blind spot mirrors that will give you the best view possible of the vehicles around you. 
AAA Emergency Roadside Kit
Depending on how prepared you want to be, you can find these with anywhere from 10 to 100 pieces. Equipped with things like jumper cables, an LED flashlight, a poncho, duct tape, and first-aid supplies, this is emergency kit is necessary for any long car ride. You'll be ready for almost anything with this kit in your car. 
Kieba Coccyx Seat Cushion
This memory foam seat cushion might just save your tailbone on a long road trip! The memory foam is topped with a layer of soothing gel, and helps relieve pain from the low back, tailbone and hips. Get comfortable on your long drive while also promoting proper posture in your body. 
A Note on Safety
Keep in mind that traffic is much heavier than normal during the holiday season. Make sure any accessories you have for your vehicle are aimed at reducing distraction and increasing safety. If you do get a car accident you should call the police right away, according to car accident lawyers. By filing a police report, pursuing a claim will likely be much easier.