2010 T-Top Camaro Conversion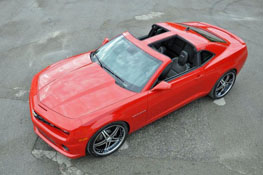 Drop Top Customs, the same Florida-based custom car builder that offers a convertible conversion for the Chevrolet Camaro, has unveiled a new T-top conversion for the fifth-generation Camaro. It will be shown for the first time at the 2010 SEMA show in November.
According to Company President Jeff Moran, "The installation utilizes our exclusive convertible understructure reinforcement. Most of these T-top Camaros will come supercharged, so there is no need for concern when you want to let your pony run."
The conversion will cost $6,500 and production starts in mid-November. Drop Top Customs is the custom car arm of Convertible Builders LLC, which has been building conversions since 1976. Its convertible conversion for the Camaro debuted at last year's SEMA show.
What an awesome car!!!
Protect your Investment, have it Appraised!