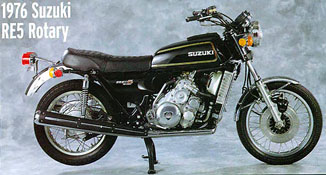 Suzuki presented its first, and only, rotary engine powered motorcycle at the Tokyo Show in late 1973. The RE5, as the model was called, was Suzuki's technical flagship at the time and a fine motorcycle. The engine, originated from NSU in Germany, was smooth, quiet, powerful and had hardly any vibrations, thanks to its construction with no parts moving back-and-forth like the usual Otto engine.
The rotary, or Wankel, engine has a number of benefits over standard engines including a lack of camshafts, intake and exhaust valves, and a reduced number of moving parts. Many manufacturers experimented with the engine type and some prototypes were presented in the early 70's but Suzuki was the only motorcycle manufacturer that used the rotary engine on a mass produced bike.
Suzuki presented the engine sometimes as 1000cc, because some regulatory bodies de-rate the engine by doubling the chamber capacity. The actual cylinder capacity was 497 cc.
The design of the RE5 was not as revolutionary as its engine. The instrument panel and tail light were contained in cylindrical shapes to play on the rotary theme, otherwise the bike looked a lot like the company's two-stroke flagship GT750. Also included was a special heat shield since the rotary engine design tended to make exhaust pipes hot enough to burn riders' legs.
What happened? The customers did find the RE5 interesting, but not many but not many of them actually bought the model. Perhaps it was the new technology that scared off the customs, perhaps it was the heavy fuel consumption that made it. However, Suzuki had invested enormous sums of money to the project and had built an entire new assembly line for the rotary engines but the machines wouldn't sell.
The cylindrical instrument panel and tail light were replaced by standard type items in 1976, in order to make the bike look more