1960 Corvette – It's All in the Numbers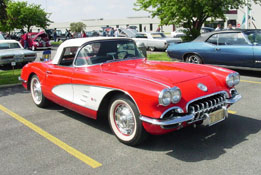 We get calls from clients wanting to know what there car is worth. They describe the car and all it's attributes, and then I ask the questions….
What size Motor?
Is it the original motor?
Can you send me the VIN, Data plate and odometer?
They usually reply, no, but it's a numbers matching car, to which I ask. What numbers match?
Theses are some of the most basic questions needed to know to even try to make a guess at the value of their pride and joy. There are a limited number of cars out there that are original and have documentation to prove it. This makes those vehicles more sought after and in greater demand, therefore they big more money when sold. On a Corvette the last digits of the VIN number are stamped on the engine block along with a code that tells us what size and horsepower it is. There is also a casting number that can give us a better idea of what kind of engine it is if it's not the original engine.
So again its all in the numbers, we can't even look it up until we know what were looking up.
Protect Your Investment, Have it Appraised!