1959 Cadillac Cyclone XP-74 Concept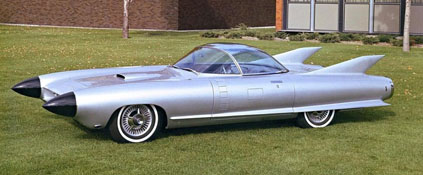 Designed by Harley Earl the cyclone looked more like a Jet aircraft than a car. its two fenders resembling rockets. The two flat door Segmènts could be slid back. The revolutionary design was matched by the radar-sensing crash avoidance system and the Plexiglass bubble-top that automatically closed when its sensor detected rain.
The Cadillac Cyclone was an indication of the United States obsession with jet design and aerodynamics. During the early 1950's GM introduced their Firebird concepts which featured dramatic and bold designs powered by gas turbine engines.
Powering the Cyclone was a modified version of a V8 engine capable of producing 325 horsepower. The headlights could be completely hidden above the grill. Located in the nose cones were radars which aided in crash avoidance. The exhaust system was located directly behind the nose cone and in front of the front wheels. Located in the rear were large tail lights which gave the impression of jet exhausts. Small wings finished off the Cyclone and would eventually make it into production.
Among its advanced engineering features is a radar-locating device, which scans the highway, and warns the driver electronically of objects in its path. Large, twin nose cones in the front of the car house the proximity-sensing units. They electronically alert the driver with both an audible signal and a warning light if an object is in its path.
At a touch of a button, Cyclones doors move outward from the car three inches. Moving smoothly on ball bearings, they can be slid back for easy entrance.
A 325 horsepowered engine that is positioned in the nose of the car powers the Cyclone. It features a low profile carburetor, cross flow aluminum radiator and twin fans. The muffler and exhaust are located in the front engine compartment with the exhaust outlets just ahead of the front wheels.
Inside, instruments are clustered like an aircraft dashboard before, and between, the two passengers. An intercommunication system allows passengers to converse with persons outside the automobile without raising the canopy.
This was Harley Earl's last concept vehicle before his retirement in 1958. After Earl's retirement, with Bill Mitchell as Vice President and head of design, the Cyclone's fins were cut down, the taillights moved to the bumber ends, the hubcaps changed, the bubble top removed and the pearl white paint changed to silver. The car was then known as the 1964 Cadillac Cyclone XP-74 Concept.