1959 Cadillac Biarritz - the Last Fighter Jet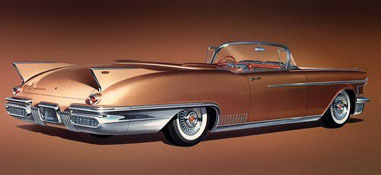 An American Icon – Longer, Lower and Wider with aircraft styling and chrome that could blind an innocent bystander who dared look straight at it. The '59 Cadillac had to be one of the largest cars ever produced. I know it's a challenge to just get one in the frame of your camera, much less park it in your garage.
In the day, Cadillac designers like Harley Earl were in a fierce competition with rivals such as Chrysler and Lincoln. The '59 Cadillac was 3" lower and 8" longer than the '58 Cadillac. Aircraft like fins replaced big domed roofs, lots of glass, Automatic headlamp controls were high-tech for the period.
The critics loved the new Cadillac's, but the public was a bit critical of all the big tail fins and exaggerated styling. The '59 was not only the last of the big fin Caddy's but the last of the Harley Earl designs as Harley Earl would retire after the release of the '59 Cadillac series and move to Florida. Harley Earl died of a stroke in 1969.
Some of the styling of the early cars would carry over for a couple years, but 1959 was the peak of the "Fin" era Caddy's and in my opinion the best American Icon Automobiles.