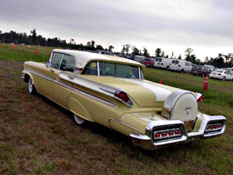 The top of the Mercury line in 1956, the full-size Mercury Montclair was created under the Mercury Marque. The Montclair was introduced to be included in Mercury's premium automobile line.
Though not much evidence exists to support this, the name is believed to have been derived from an upper class community of Montclair located in New Jersey.
With a distinct design feature that set it apart and designated it a part of the Montclair series, the vehicle had contrasting color panels that ran beneath the side windows. The Montclair showcased some of Mercury's best features including the two-tone paint combinations and the additional chrome trim.
The vehicle came with the option of the Merc-O-Matic automatic transmission. It also featured a 312 cubic inch V8 Engine and a 4 barrel carburetor.
Founded by the Ford Motor Company in 1939, Mercury had begun with the ideal to design and manufacture semi-luxury vehicles. Mercury's original major success has been attributed to the Ford Marque in the early 50's as it stretched and lowered then existing Ford platforms which in turn generated superior results from their target markets.
From 1955 to 1960, the Mercury Montclair was both manufactured and sold by the sole Mercury Division and from 1964 to 1968 by Ford's Lincoln-Mercury Division.
Upon the introduction of the Mercury Turnpike cruiser in 1957, the Montclair name had the distinct misfortune to be pushed down the market until 1958.
The Montclair was discontinued in 1961, yet was resurrected for the 1964 model year until it was once again retired at the end of the 1968 model year.
Auction Value: $40,000 - $85,0000