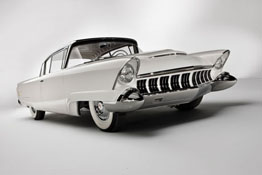 In the 1950s, concept cars-often referred to as Dream Machines-were built to test new ideas. For 1954, Ford Motor Company fielded two new entries in the show circuit: a sporty little two-seater called the Thunderbird and a full-size two-door hard top produced under the Mercury banner and called the XM-800. Ford's head of design, George Walker, sent this project to the Mercury Pre-Production Design Studios, which was headed up by John Najjar.
Initial designs for the XM-800 used sweeping lines to present a streamlined profile, with lavish use of contoured chrome trim badges and a great deal of decorative gingerbread. That was until an up-and-coming designer by the name of Elwood Engel stepped in and lent his hand. He suggested a more subdued approach, softening the lines to provide a clean and elegant look.
When the final design work was completed, Ford contracted Creative Industries of Detroit to build the car. The XM-800 would be based on a standard-production Mercury Monterey chassis and all of the body panels would be fiberglass. When the XM-800 debuted at the 1954 Detroit Auto Show, it was an instant success. It was hailed for its open use of glass in the greenhouse area, offering drivers and passengers an almost-360-degree panoramic view.
So impressive was the final product that Benson Ford, who headed up the Lincoln-Mercury Division at the time, pushed for the XM-800's basic design to be added to the Mercury lineup and prompted literature of the day to note that this car had been "engineered for full volume production." However, at about the same time as the XM-800 was developed, the company had decided that an entirely new line should be produced, which would become the Edsel.
Under the hood of the XM-800, an experimental version of the new overhead-valve Y-block V8 was installed, reportedly 312 ci, with nearly 270 horsepower and backed up by a Ford-O-Matic automatic transmission. A number of promotional items were produced, including key-chain fobs and even a toy car in Post brand cereals, which is considered quite collectible today.
During 1954 and into early 1955, the XM-800 made appearances at car shows and exhibitions across the country. It was also loaned out to movie studios and featured in the 20th Century Fox production "Woman's World," starring Clifton Webb, Van Heflin, Cornell Wilde, Fred MacMurray, June Allyson, and Lauren Bacall.
This car sold for $429,000, including RM's Automobiles of Arizona Auction in Phoenix, Arizona, on January 22, 2010.