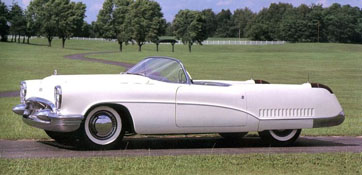 During the 1950s, "dream cars" popped up with the frequency of the annual model change. General Motors started the whole trend with the Buick Y-Job, a Harley J. Earl design that dated back to 1938 and predicted the styling of the 1942 Buick.
By 1953, General Motors was the master at whetting the public's appetite for dream cars via its annual Motorama show. This was the first time it traveled to various cities, and it gained tremendous publicity for General Motors. Although the corporation generally referred to its futuristic show cars as "experimental automobiles," the public called them dream cars, and General Motors also did so on occasion.
Whatever the term, General Motors obliged the curious by fielding a raft of cars for the 1953 Motorama. Kicking off at New York's Waldorf Astoria on January 16, the show later toured Chicago, Miami, Los Angeles, San Francisco, Dallas, and Kansas City.
Estimated Value $55,000 - $90,000