1952 Porsche 356 Cabriolet Pre A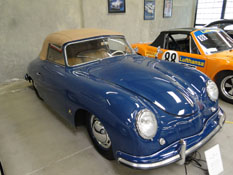 One of 115 Cabriolets built in 1952, one of 12 with a 1500cc engine
In 1952 there were only four Porsche 356 Cabriolets sold in the United States out of 294 produced by the Porsche Werke in Zuffenhausen. Back in '51, about the only way to buy a 356 in this country was through New York importer Max Hoffman.
The early cabriolets were among his best-selling cars, helping to give Porsche a foothold in the emerging postwar American sports car market. Today the cabriolets are considered among the most valuable Pre-A models due to their limited numbers and unique body styling, different from that of the later 356A cabriolets introduced in October 1955.
Pre-A 356s, even among the most hearty enthusiasts, are rarely driven. If shod with their original 3.25 x 16-inch wheels and proper period tires, these cars have a genuine "vintage" feel which is scary at anything above 35 mph. To make matters worse, they are fragile and, due to a lack of replacement parts, expensive to repair. As a result, there are two ways to enjoy this model: as a dead-stock museum piece, or as a fully modernized driver with unique style.
Protect your Investment.