1948 Tucker Torpedo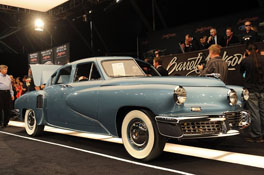 The Tucker automobile is an American legend in which 51 examples were made. Its triumphant story was depicted in the 1988 Hollywood movie Tucker: The Man and His Dream.
Dubbed the Car of Tomorrow it featured advance features like, disc brakes, a 335 CID 166HP Horizontally opposed fuel injected rear mounted 6-cylinder engine similar to a Porsche and the same engine used in Bell Helicopters. Weighing 4,200 pounds and having a drag coefficient of 0.27 it had a top speed of 120MPH.
Although many call it the Torpedo it was actually called "Tucker '48" and technically no Torpedo's were ever made. In its day it had a projected retail price of $2,450, but in today's market they sell for millions, with one selling at Barrett-Jackson Scottsdale 2012 for $2.9 Million. There are 47 of the original 51 still in existence, all of them very well documented. We have recently appraised 2 of these ultra-rare vehicles, both of them were concourse condition perfect examples. These cars are rarely ever sold and when they do you can expect a lot of attention and millions of dollars to be paid for a chance to own a part of history.